The Ultimate Guide to SSL Certificates | Prices, Discounts, Vendors, Stats
Published on October 24, 2022
Have you ever noticed the lock sign at the left corner whenever you open a website? If you click it, a message will appear stating that the "connection is secure".
But how is your browser so sure about that the website's security? Well, this is where SSL (Secure Socket Layer) comes in.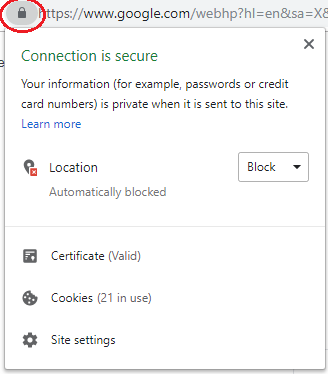 SSL Certificates are small data files that secure an organization's detail through a cryptographic key. When installed on web servers, these certificates activate the https protocol with the padlock and allow the browser and the webserver to connect securely. Typically, SSL secures credit card transactions, logins and data transfer, and more recently; it has taken on the duty to secure browsing on social media sites.
Primary function of SSL is to encrypt data that is shared on a website. Sites with SSL certification are loaded as HTTPS instead of HTTP while also displaying a padlock. This allows users to observe which website is secure for entering personal data.
SSL in many ways is like putting a lock on your door. Only difference is that this lock needs to be provided by a reputable online company.
This comprehensive SSL certificate guide will answer some common questions so you may buy the certificate that fits your need.
Let's dig in.
Pricing, Discount and Vendors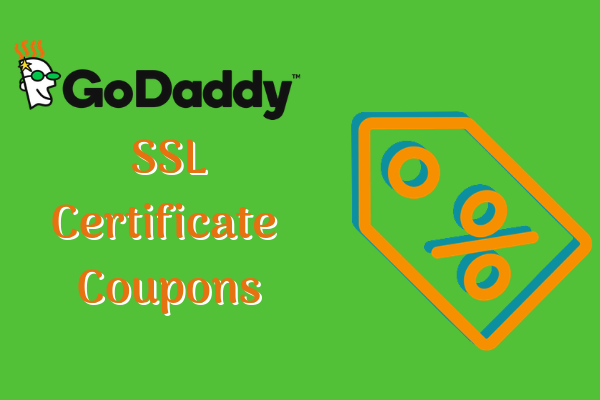 When it comes to SSL, GeoTrust, Digicert and GoDaddy are some of the biggest names. Some third-party resellers such as Comodo and NameCheap offer similar protection but at a discounted rate.
Cost of SSL certificates varies depending on what you require. Standard SSL certification can range anywhere from $50 to $200 a year. GoDaddy, for instance, sells the certificate for $63.99/yr but you can cut down this price with GoDaddy SSL coupons.
Free Certificates vs. Paid Certificates
On the free side, Let's Encrypt offers certificates without any cost. However, you will be well advised to seek guidance from someone who's knowledgeable on DNS and technical setup of your site to help with this.
Free SSL certificates offer the same level of encryption as paid certificates but the latter comes with round the clock technical support. Taking the free option means you have to figure things on your own. SSL certificate that comes with no price tag also needs to be renewed every 30-90 days. Paid certificate meanwhile can last for 1-2 years.
Finally, if anything goes wrong on the Certification Authority's end with a free SSL certificate, you are completely on your own. There's no such issue with a paid SSL certificate as they come backed with warranties.
Reasons Why You Should Have an SSL Certificate
In this part of the SSL certificate guide, I will highlight it's important to the website, the visitors and the Google search engine.
It Encrypts Sensitive Information
"US companies lost $654 billion to cyber attacks in 2018" reports forgerock.
It is impossible to prevent cybercrime if your website does not have an SSL certificate. The primary function of an SSL certificate is to enable encryption and protect data that is exchanged through the website
This is extremely important as the information travels on the internet from computer to computer until it reaches the server.
Any computer between you and the server can see the information if it's unencrypted. SSL certificate encrypts the sensitive information such as credit card numbers, username, passwords and makes it unreadable to outside entities.
Ultimately, this protects users from hackers and identity thieves.
It Verifies and Authenticates Your Website
When visitors click on the trust mark or the browser's padlock, some of the website's information is displayed.
Trusted Certification Authorities like GoDaddy take this information from anyone looking to buy an SSL certificate. They also employ certain standards and make numerous checks before issuing the certificate.
This means that using GoDaddy promo codes to get an SSL certification is not an option for hackers looking to dupe people for information. Only legit companies and individuals that are looking to engage in serious business will get verified by the providers like GoDaddy.
People click certified website with a certain level of trust. This increases the chances of conversions for online businesses.
Google Flags Websites Without SSL
Google wants you to have an SSL Certificate.
There's no way around this. The Chrome browser will literally flag your website as "not secure" if you are taking any another route.
It's no secret that the search engine giant does not joke around when it comes to online security. Its emphasis on user protection has pushed it further towards forcing the website to employ data protection measures. It's no secret that the search engine giant does not joke around when it comes to online security. Its emphasis on user protection has pushed it further towards forcing the website to employ data protection measures. Here's some background on Google's policy regarding SSL:
• January 2017: Google Chrome began flagging certain forms of HTTP
• October 2017: All form and incognito pages came with a warning.
• July 2018: Every non-SSL websites were flagged as "not secure"
Back in 2016, Chrome started marking HTTP website as unsafe if they had a password or credit card field. A year later, HTTP pages where data could be entered (even search boxes) were marked "not safe". Whenever users started filling out data such as name, phone or when they searched a query, a warning appeared. Finally, all websites even the ones with no forms were marked unsafe.
You might have noticed a pattern. Google has gradually put more and more pressure on websites to get an SSL certificate.
Google Webster Trends Analyst Zineb Ait Bahajji has reported: "We're starting to use HTTPS as a ranking signal." So waste no time in getting a certificate with GoDaddy SSL coupons otherwise your website will sink in Google's ranking system.
But how do you get certified? That's something I will explain below.
How Can I Get An SSL Certificate?
First, you need to work out what type of certificate you need. If the host content is on separate domain and subdomains, you will need different SSL certificates.
A standard SSL certificate will suffice for most websites. However, if you happen to operate in a regulated industry like insurance and finance, you will need to get some expert advice. Turns out, there are specific requirements in some industries that identify what type of SSL certificate you need.
GoDaddy's certificates, for instance, can secure multitudes of websites. They are costlier than many but others but worth the price. However, you can always cut down their prices with a GoDaddy SSL certificate coupon.
So getting a certification within a budget is most definitely possible.
Type of SSL Certificates
SSL Certificates have different validation levels. To know which one to install, you must have some background knowledge.Below are some SSL certificate types you can purchase.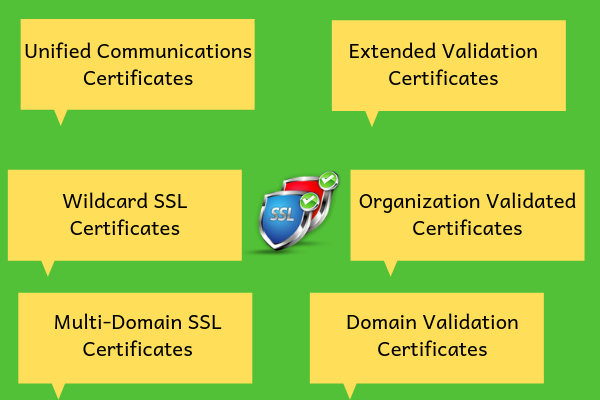 Extended Validation Certificates (EV SSL)
Highest ranking and therefore the most expensive SSL certificate is an Extended Validation Certificate (EV SSL). With this SSL certificate installed, the browser will display a padlock, HTTPS, country and the name of the business. Subsequently, the website owner will go through a standardized identity verification to confirm the legal ownership of the domain.
EV certificate can bolster consumer confidence and provide reassurance that all transactions are secure.
Organization Validated Certificates (OV SSL)
The main purpose of Organization Validated SSL certificates or OV SSL is to encrypt the sensitive information of users during transactions. Similar to EV SSL, these certificates ensure the credibility of the owner. They are the second-highest in price and commercial websites need them for assuring the confidentiality of customer information.
Domain Validation Certificates (DV SSL)
Domain Validation Certificates provide low assurance and have basic encryption. They are typically used for blogs and informational websites. With a minimal validation process, this type of SSL certificates can be required by responding to a phone call or a mail. It's easy to obtain and is available for a cost-efficient price. It only displays HTTPS and a padlock. Business name is not included.
Multi-Domain SSL Certificates
Multi-Domain certificates can help you secure up to 100 different domain names and subdomains with a single certificate. Since you have control of the Subject Alternative Name (SAN) field, any SANs can be added, changed and deleted.
Wildcard SSL Certificates
Wildcard SSL certificates can secure the base domain and an infinite number of subdomains. It's a much cheaper option than purchasing a number of single-domain SSL certificates. One can buy both OV Wildcard SSL certificates and DV Wildcard SSL certificates.
Unified Communications Certificates (UCC)
Unified Communications Certificates (UCC) are also regarded as Multi-domain SSL certificates. UCC was originally intended to secure Live Communication servers and Microsoft Exchange. But now, these certificates can be used by website owners to establish credibility. This version of SSL certificate can secure multiple domains and provide the highest level of assurance through a green bar.
Brief History of SSL Certificate
Introduced first by Netscape in 1994, SSL protocol was developed due to a growing need of ensuring security between a web browser and TCP protocols. Its first version was never released due to serious security flaws. The second version was out in 1995 and the final and most improved version, SSL 3.0 was released in 1996. Transport Layer Security (TLS) protocol introduced in 1999 came as an upgrade to SSL 3.0. It's the most recent version; TLS 1.3 was developed back in August of 2018.
Some Fascinating SSL Certificate Statistics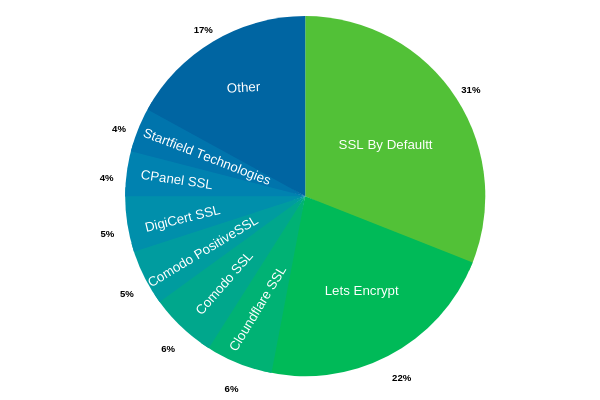 When it comes to the importance of SLL certificates in the online world, the numbers tell the story.
There Are 85,167,054 SSL Certificates On The Internet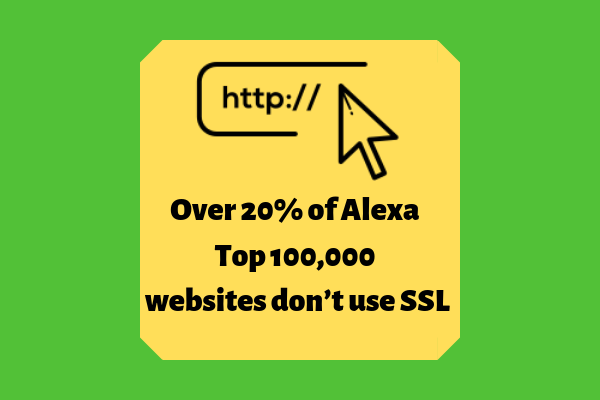 BuiltWith detected 1,946,522 certificates in the top million most visited websites. Meanwhile, there were 279,978 detections in the top 100,000 sites while certificates top 10,000 had 37,008. The USA, Germany and the UK remain the countries with most SSL certificates. However, you will be surprised to find out that a big portion of the internet is unsecured and unencrypted.
Over 20% Of Alexa Top 100,000 Websites Don't Use SSL
Watchguard reported in Q3 of 2018 that 20,911 of sites in Alexa's coveted top websites are still unencrypted. This raises considerable questions over the integrity of these websites and their respective owners. Good news is that nearly 80% are secured by the HTTPS.
Chrome Users Spend 90.2% Of Their Time On SSL Pages
People click away from the websites if they are not secure. So it's no surprise that in the average of browsing time across platforms that support Chrome, 90% is spent by users on HTTPS pages. These stats by Google Transparency Report show that visitors will be more generous with their time if your website is secured by an SSL certificate.
Let's Encrypt Remains The Most Popular Authority With 58.21% Share In The Market
A clear market leader in SSL certification, Let's Encrypt supports over 169 million active domains as of August 2019. It has issued 98,072 million active certificates with more than 51 million active registered domains. Censys reports that CloudFare is the second biggest Certification Authority with over 41 issued certificates.
IdenTrust Maintains A 49.9% Share Of The Paid SSL Market
While Let's Encrypt dominates the overall SSL market, IdenTrust is the leader in paid SSL services with a market share of 49.9% as of July 2019. Sectigo (formerly known as COMODO CA) takes second place with a share of 26%, DigiCert follows with a 12.5% share.
Number Of Certificates Increased By 13.2 Million From June 2017 To June 2018
Netcraft's June 2018 report a considerable growth in SSL certificates. 80% of this growth was Domain Validation (DV) certificates while Extended Validation (EV) also grew by 21.1%.
85% Of Online Shoppers Avoid Unsecured Websites
Numbers confirm the gist of this SSL certificate manual. Online shoppers these days are unwilling to buy from a non-certified website, and rightly so. Browsers are leaving no stone unturned to make security details of a site visible to the end-user. Netizens can lookout for a padlock or a green address bar to determine if the website is secure. No visitor is in the dark about a website's security.
Conclusion
SSL certificate establishes a certain level of trust between a website and its visitors. It secures sensitive information and stops it from getting into the wrong hands. Business owners, in particular, need this certificate if they wish to convert leads into sales. On top of that, Google highly favors certified websites as mentioned before in this guide of SSL certificates. All this leaves no room for you to sit down and ponder whether you should get a certificate for your website or not. If getting your website certified is something that strains your budget, consider using GoDaddy SSL coupons and other price-cutting strategies. Maybe a decade ago getting an SSL Certification was something you would think over. But today, it's an absolute necessity.