GoDaddy needs no introduction as it is the world's most popular domain registration and web hosting site. It has over 17 million customers and has regional facilities in almost every region on the globe. It was founded in 1997 and is headquartered in Scottsdale, AZ.
GoDaddy is the leader of cloud platform for domain registration and offer many other solutions for web businesses. With round the clock customer support, great discounts, and plethora of online resources for the customer, GoDaddy is the number one choice for small independent as well as established businesses for finding the right domain.
Their plans and prices are designed to provide growing businesses an opportunity to gain solid ground in the online world. The prices are very reasonable and will not exhaust budget. Something as fundamental as a domain name should not be difficult to get and expensive to buy. They have over 76 million domain names under their belt.
GoDaddy SSL Certification
In addition to domains and hosting, GoDaddy also provides industry leading website security services. When it comes to securing your website and its visitors, the first line of defense is an SSL certification. GoDaddy has that covered for you.
If you are considering getting your website's SSL certificate from GoDaddy there are many benefits. You can choose an SSL product that is right for your website. You can also use coupons to save money on your first term.
Their SSL certification will prevent malware, viruses, and hackers from attacking your website. It will guard your code. As a result, your customers trust your website too.
GoDaddy SSL Products
GoDaddy also offers website security service with its SSL Certification products. Your website needs SSL certification for better Google ranking and security for your visitors. There are essentially three SSL Certificate products you can opt for.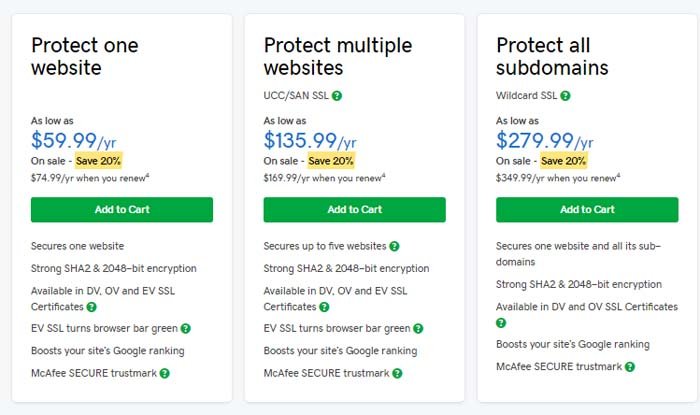 All SSL Certifications at GoDaddy include:
HA-2 and 2048-bit encryption
Unlimited free issues
Security seal
24/7 support
$1 million liability protection
SSL for One Website: $59.99 for the first year
SSL for Five Websites: $135.99 for the first year
SSL for All Sub-domain: $279.99 for the first year
These are all discounted rates for the first year with 20% saving.
Besides these SSL products, GoDaddy also offers other SSL certifications to meet client specific needs:
Extended Validation SSL Certificates: At $99.99 for the first year at half off you can get EV SSL which is generally hard to get and can make any website instantly trustable.
Code Signing Certificate: This product ensures your code is safe and satisfies your visitors that there is no risk of information theft. This products costs $169.99 per year after discount. It protects the website and its code with SHA-2 encryption.