Tips For Choosing A Photography Domain Name
Published on November 20, 2023
Photography is an art of passion. To turn your passion into your business and earn money doing what you love is like living the dream. However, you must have some business insights and marketing strategy to make your business a successful one. One of these strategies is to have an online presence by developing a website to showcase your artwork and engage with your clients. A website also gives you freedom from third-party platforms and allows you to deal with clients on your terms. For a business website, a domain name is very important. It is the identity of your business and helps customers reach out to you. Here we will discuss what is a domain name, its importance, tips for choosing a photography domain name, and one of the best photography domain name generators.

What are domain names?

Domain names are specific web addresses that serve as an identity for your business. They are unique for every single website and are a foundation for a business's online presence. The domain name consists of 2 parts i.e. the name of the website, and the extension like .com, .net, .in, etc. This is the name that a client must enter to reach your website. The catchier the domain name, the better. You must choose a well-thought-out and interactive domain name, as it influences how your photography business is perceived online and how well your brand is recognized.

Importance of a good domain name:

A good domain name is very important for your photography business as it is the first impression of your business on the customers. that's why your domain name must be relevant to your photography and at the same time unique and memorable to leave a lasting impression. Your domain is also important in determining your SEO ranking. By using keywords that best match your photography domain, you can get a higher ranking through your domain name. A memorable and shareable domain name can encourage referrals via word-of-mouth and marketing campaigns by making it simpler for users to remember and share your website.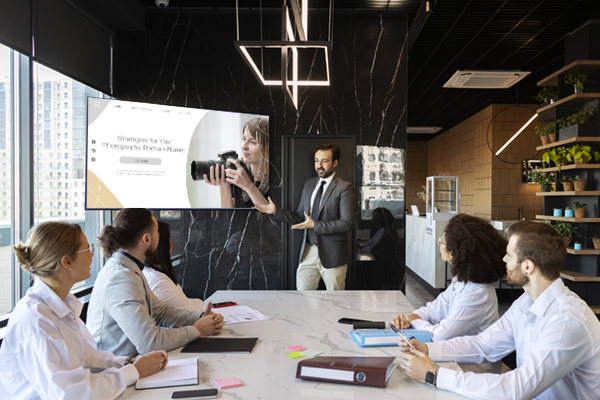 Strategies for Your Photography Domain Name:

1. Stay relevant:

The number one thing to consider while choosing a photography domain name is to stay relevant to your website. If your photography business specializes in portraits, scenery landscapes, photoshoots, etc. you should add that in your domain name, so it would be easier for your clients to reach you. You can also include the location of your services to keep it more relevant. An effective domain name makes its representation of a company, group, or subject clear to visitors immediately.

2. Keep it simple:

Keeping your photography domain name short and simple is important as it prevents typing errors, forgetting the spelling, and difficulty in finding. Avoid commas, hyphens, numbers, and other characters that might create errors and typos. Hyphens and numbers can hurt your chances of word-of-mouth referrals. It reduces uncertainty by communicating a clear and concise statement about the goal or content of the website. Hyphens and numerals are often avoided in strong domain names as they might be confusing to users.

3. Utilize keywords:

Keywords are very important for the photography domain. Try including relevant keywords to the name according to your location, niche, or specifications to get a higher SEO ranking than your competitors. Bokeh, exposure, flash, focal, focus, imaging, lens, photo, photography, picture, portrait, pose, shutter, studio, and tripod are a few terms you may want to think about.

4. Choose the right extension:

People usually take domain extensions for granted when choosing a photography website name. It is important to choose the extension that your target audience is familiar with. As it goes, .com is still one of the most trusted and user-friendly extensions, and you must try to get your name registered under .com. If your domain name is already taken up on this extension, try to adjust it. If you can't, there are still other extensions like .org, .photo, .studio, etc. for your photography website.

5. Trademark Considerations:

When a domain name is registered that conflicts with a well-known brand, legal problems may arise. These problems may include litigation or the need to give up the domain. Perform comprehensive trademark searches to ensure that the name you have selected is not already being used for commercial purposes to prevent such issues. Selecting a distinctive and legally acceptable domain name is crucial if you want to safeguard your company and keep up a good online reputation.

6. Social media compatibility:

Another important tip for choosing a photography domain is to ensure its social media compatibility. Maintaining a consistent online presence on your website and social media pages is essential for user engagement and brand awareness. If your preferred domain name is already registered on social media sites like Facebook, Instagram, or Twitter, it may confuse and hinder prospective customers from finding and contacting your photography company. Thus, to maintain a cohesive and expert online brand presence, make sure your domain name is available and consistent across all pertinent social media networks before committing to it.

7. Be unique:

Your photography domain name must be unique to grasp everybody's attention. To create a unique domain name, you must brainstorm different ideas on how you want to portray your business on the web. You can combine keywords, use wordplay, experiment with different sounds, etc. You must ensure that the name you like is not too similar to other businesses. You must also consider if it is easier to pronounce and share.
8. Be quick but not hasty:

You should register the domain name you have chosen as soon as you have made up your mind about it. You should not wait too long to register your website under your domain, in case someone comes up with the same idea and registers before you. However, you should not be too hasty about it either. You should consult your friends and business partners and consider their opinions. Don't be too hasty in adapting trends that might become outdated. Look for a long-term how this name will serve in the future. After considering all things, go and register the photography domain name.

What makes a domain name strong?

Now we know how important a domain name is for your photography website. So you must ensure that you have chosen a strong business domain name. A strong domain name is relevant, brief, and memorable. It makes it simple for customers to associate the name with the products or services provided since it accurately portrays the brand or company it represents. Strong domain names are usually spelled correctly and steer clear of hyphens, numerals, or complicated characters.
They frequently have certain keywords in them that aid in search engine optimization. A powerful domain name is also unique and doesn't violate any trademarks. Although the recommended domain extension is ".com," other appropriate extensions may also be used. A powerful domain name is a tool that supports a company's online identity and helps establish awareness and trust.

Off-putting domain elements. What to avoid?

Like a strong domain attracts visitors to your website, an off-putting domain name drives the traffic away. That's why you should avoid following off-putting elements when you are choosing a photography domain name:
Hyphens
Numbers
Special characters
Misspellings
Generic terms
Unrelated words
Keyword loading
Offensive language
Double letters
Hard to pronounce
Trendy words
Trademark
Long and confusing
Geographical restrictions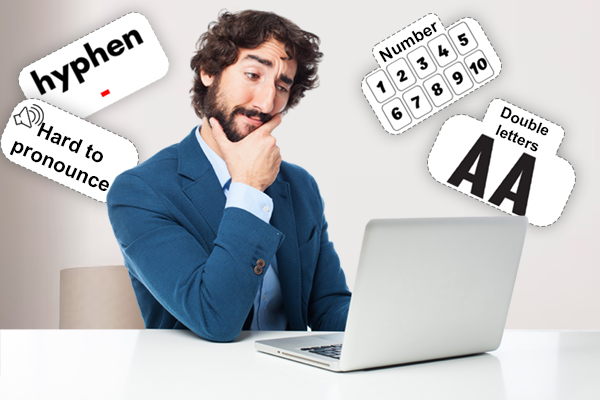 Domain name generators:

Tired of using the discussed strategies but still can't find the right domain for your photography website? Don't worry! Now you can use AI tools that work as a domain name generator.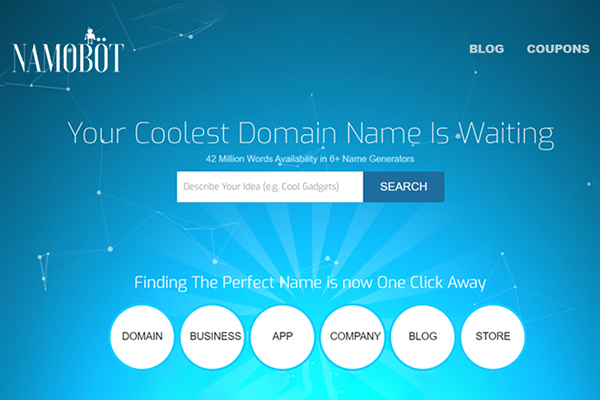 What is Namobot?

Namobot is a free tool that generates domain names. It can find the perfect names for any business, website, start-up, or mobile app out of over 30 million word combinations. Simply type in a word or phrase to use the tool, and it will present a list of creative and entertaining related names. Namobot is incredibly good at creating names and is simple and quick. You just have to type in clues, and one clue can generate thousands of name ideas.
Based on the keywords you provide to Namobot, it will generate hundreds and thousands of names with available extensions. You just have to give the ideas on how you want your domain name, and Namobot will deliver. It also serves as an availability or trademark checker, so if the name you chose has already been taken, it will notify you before you register. Namobot is an efficient, competent, and fast way of selecting a domain name for your photography business!

Conclusion:

Once you turn your passion for photography into a business, you must decide on a strong and valuable domain name for your website. You must make sure that you follow the strategies discussed earlier to find a unique and suitable domain name. Or, you can get the services of the domain name generator Namobot to get efficient and memorable photography domain names for your business.