10 Mistakes Even Pros Make in Naming a Business Start up
Published on October 24, 2022
In almost every industry, the failure rates for startups are quite high. What could be the reason? Weak business plan? Mediocre idea? Not enough capital? Bad marketing? It could be any one of it or even all of it you did not think things through. People are quick to point towards one thing that could be the result for the startup failure. In reality, it is a little bit of everything that ultimately throws you down. For any startup, devil is in the detail and by that we mean every little, tiny, unthinkable detail. And the most important of the details is the name of the company.
Startup company names play a crucial role in the company's recognition, marketing and of course success. Phil Davis who is the President of Tungsten Branding easily explains the importance of a business name:
"Naming a business is a lot like laying the cornerstone of a building. Once it's in place, the entire foundation and structure is aligned to that original stone. If it's off, even just a bit, the rest of the building is off, and the misalignment becomes amplified."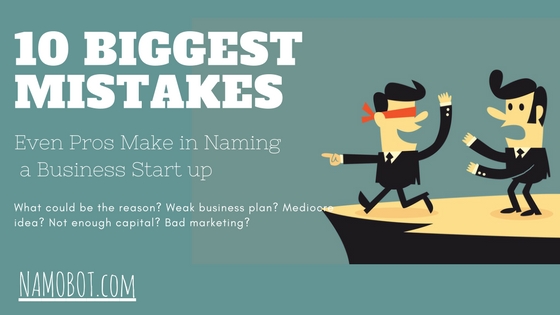 If you already know what makes a great name and what mistakes to avoid, you can pick a smart, catchy and unforgettable name for your brilliant startup idea. Here are 10 mistakes that even pros make sometimes let alone rookies:
Difficult to Spell or Pronounce
In the efforts to stand out, many times entrepreneurs end up choosing names for their business that are difficult for their customers to pronounce, spell or even hear. This is the worst thing you can do for a startup as a difficult name is easily forgotten. Some letters can sound similar to other letters so you have to ensure that the name you chose sounds clear when spoken out loud. It should be powerful in its sound and easy to remember for your potential customers.
Generic Name
You do not want a difficult name but you definitely do not want a generic name either. Many times, especially with tech startups, the names get very generic which makes it hard for the audience to know what branch of technology the company belongs to. This would only make it difficult for your startup to get recognized online or at conventions.
Not studying the market and competitors
Whatever your business startup idea is, chances are there are similar businesses existing. In all cases you should do an in-depth competitor and market analysis. Many entrepreneurs simply forget to research completely their potential competition including startup company names. The name is not merely a name, it is part of your branding strategy. Just run a quick search online for any particular business industry or products and you will find similar or even exact same named businesses. The best way to describe this is branding suicide especially for startups.
Unconventional Spelling
We know using 'z' instead of 's' is too tempting but sometimes it can be confusing and make it hard for your customers to find you. Imagine that a potential client heard about your service and your business name. When they go up to the web to find you, they cannot because your name spells different from how it sounds. You might get away with one or two letter changes and that too if sound similar. Doing it too much just simply ruins the chances to get promoted by word of mouth. Wesabe, Bawte or Xobni are all pronounced way differently than how they are spelled.
Failing to Check for Trademark
Yes, even pros make this mistake! Many startup owners are so busy building their business up, hiring people, promoting their product or service, they simply forget to do a trademark search for the company name. This could be a disaster and end the company before it is even started. You spend so much time building up the startup only to find out that a company with the same name exists and has the name trademarked. Although Google search is reliable, you can also search on government websites for trademarks in your region.
Not using the tools
When there is free technology available to make things fast and easy for you, it would only be stupid to not benefit from them. There are tools that can help you do solid research and have a detailed business plan in motion. You can search for available domains, available catchy business names, and even social media on Namobot. Similarly there are other tools that can help you with social media like HooteSuite or in communicating with your team like Slack. Even the most seasoned entrepreneurs take up too much work upon themselves, forgetting that they could do the same work much more quickly using tools.
The great thing about using tools is that many of them are absolutely free which is no less than a blessing for a startup. Many budding businesses already struggle with finances and if they can utilize a helpful tool for free, could anything be better than that? Be on the lookout for any great tool you can use in the business process. Many are not even that popular so you will have to dig in and search.
Limiting to one location or category
If you are not thinking big, are you really an entrepreneur? Choosing a name that limits your company to a town or region can be challenging. Who knows you might cross borders in the next five years? Today is the age of globalization so imagine your company to be a global one. Think of cool business names that do not show any substantial ties to a place or category. Yes, categorization should be avoided too because expansion is in the cards. If you are selling payroll software today, who is to say you will not be selling enterprise level software tomorrow? When Burlington Coat Factory started making furniture besides coats they had a hard time including that in their brand identity. Unless you are too proud of your hometown, it is better to name your company something else.
Following Trends
Yes, there are trends in business names too especially when it comes to domains. However, a pro would know that it is better to avoid trends. Why? Name is your identity and it will stay the same till your company is standing. Trends come and go and after they go, your business name will lose touch. Businesses should take advantage of trends but they should not rely on them.
This is not only relevant regarding business names but your whole branding identity like the tag line, vision or mission statement. These things should be about the core values and agenda of your business, not what is in with the kids these days. And in all cases, avoid stereotypes because nothing repels customers more than a stereotypical business.
Not testing the name
When you are naming your company, one of the key things that helps you identify the best name is to test it on a target audience. Yes, your name should ultimately be decided by your potential customers. There are multiple things these tests will confirm. Are they able to pronounce it correctly? How long does it take to pronounce correctly? Can they spell it correctly? What do they perceive of the name? Do they remember the name after a few hours? All these things will help you comb out the best out of the cool business names you have spent so much time crafting.
Choosing an irrelevant name
A business name can sound amazing and powerful but that does not guarantee it is best for you. Relevance is key here and if you are to make your brand a household name you have got to choose the name that is relevant to your business idea and industry. There could be hundreds of names that meet all the category of a business name but they may not be appropriate for your startup.
Only shortlist names that clearly indicate the nature of your business and industry at least vaguely if not ostensibly. This will help in recognition and make the title memorable for people. This is Namobot's specialty that it only gives you names relevant to your idea and industry.
It cannot be stressed enough how impactful your business name is in every step of the way of your startup. Name is the first thing people hear and you know you have chosen a powerful name when it sounds nice, is easily remembered and gives cues about what the company is about. Mistakes happen when you are starting a new business but a mistake as big as choosing a wrong name can cost you your dream. Make sure to follow the guidelines for catchy business names.