The Complete Guide on How to Name a Cool Mobile App
Published on October 24, 2022
You have a great idea for an app that will change the lives of million but have you given thought to what it is going to be called? You are probably thinking to yourself what is in a name? The idea is so amazing I can even name the app potatoes or Godzilla or anything. That is where you will make the biggest mistake in your career. The name is everything, it is the identity of your app and if you imagine it to be a household name like WhatsApp, Shazam, Snapchat or Tinder, you got to have the coolest name.
There are currently 2.2 million apps on App Store and that number grows every day. You can imagine how challenging it can be to get recognized and then earn downloads. Your app's name can play a major role in its popularity and success. But how to get those cool app names that are catchy and smart too? That is a million dollar question if you ask me! If you follow the right steps and work smart, you can get a great name. Here is what you need to do: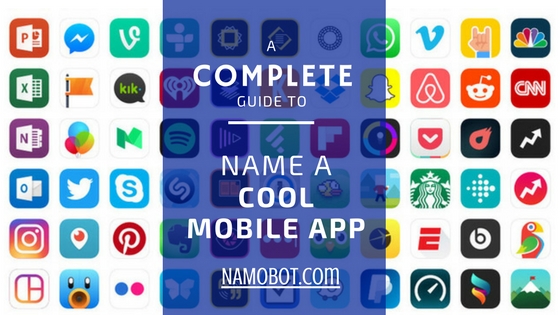 Research, Research And Some More Research
You got to look under every rock and into every nook to see what is about. From the very beginning you should know what the market situation is. Search about similar apps and what their names are. You should analyze their complete journey: who founded the app, who named it, how well is it performing and how did it reach there. All this information will leave with you some apps that will be your competition, unless your idea is totally unique that no one has ever done before.
The purpose behind researching so rigorously is to have all facts in check. An app is now not just an app, it can be a full fledge business, an empire perhaps. Even though Facebook is the most used app in the world, its example would not be the best in the context of apps as it started as a website. Snapchat, however, is a trailblazer when it comes to catchy app names and is now one of the most widely used apps. If you pay attention, the picture messaging app's name is pretty simple but it is quite smart too so much that it has turned into a verb. It is projected that the revenues for Snap, the company behind Snapchat, will grow to a whopping $3 billion.
Get To Know Your Potential Users
This is perhaps the most vital step for your overall business plan as profiling your user base puts you on the right track. No matter how great your app's design is or how innovative its features are, if you are targeting wrong people there is no way your idea will make it in the mobile world. Your research should also focus on understanding the persona of the users of your app. It should not be so hard to find out who would be your potential user. It depends entirely on the app itself and what purpose it serves. For instance, if you app has anything to do with managing money or assets, your user base would be sophisticated business people who would prefer simplicity.
Why is it relevant to know users before naming the app? It is incredibly relevant because the name is the first thing they will hear. If it does not sound catchy enough to them, they might not even download it. Here is a surprising insight, 40% smart mobile users just browse the app stores for finding apps. Now if your app's name is not catchy enough, how on earth will you get these 40% users to download it?
Come Up With A Name
Now is the time to get real and come up with a name for your app and mind you this will take some time. And the truth is the more time you spend on it, the better the outcome would be. There are many techniques you can use for creating a cool name that is exciting but relevant enough for your idea. Here are some tips:
Two Part Name
Many of the popular mobile app names have two parts that instantly tell the user what the app is about and are also quite catchy. Apps like TwitterBot, Snapchat, Wanderlust and Evernote smartly make use of two words together and they work perfectly for them. You can analyze the main purpose or features of your app and use two words together as the title.
Simple And Concise
For many app rookies, the idea of cool app names is something out of this world that perhaps requires 5 minutes to just pronounce it correctly. A simple and concise name can be quiet unique too and does so effortlessly. Keep the character length no more than 11 as a long name is a recipe for disaster.
Be Authentic
Originality is the best route to take and it should not be so hard if your idea is very novice. Still with literally millions of apps and websites on the internet, finding original and authentic names can be a taxing task. Even science thinks original names are very important for brands.
Use Tools
Although you should spend considerable amount of time on deciding the name. However, there is a rather quick way to go about it too. As you know there are online tools for everything including searching for names. These tools are fast, accurate and reliable making helping you make faster decisions and work efficiently. This is exactly how Namobot makes it easy to find unique names for your app. In a matter of seconds you have hundreds of name ideas at your fingertips. Here is what you get:
Tens of thousands of combinations
Instant check of availability
Similar/related terms
Domain and social media names too
Using tool can cut your research time considerably and give you new ideas to work with. Any smart person now knows that there are tools for everything and benefiting from them is the only logical thing to do.
Noun Adjective Combo
A noun-adjective combination can be simple but attractive to draw in downloads. If you are offering a service, it may be a good idea to just describe it with an adjective.
Foreign Name
What do the words blume, fleur and lule have in common? They all translate to flower in English. While they sound sweet, they may just fly over someone's head. This is a rather risky territory you should only take if you are absolutely sure. It will definitely be outstanding if you choose a foreign word but you have to keep in mind how your audience will perceive it.
Check Availability
This goes hand in hand with the name brainstorming because no matter how awesome a name you think of or find, if it is taken you have to start from square one. The reason is that not only do you have copyright issues but also it gets incredibly hard to get recognized and market your app. You can instantly check availability using Namobot's app name search tool or by running a quick Google search.
If the name you want is already taken, you should come up with a new one or at least tweak it a bit to make it unique and authentic. Secondly, you should not just check for names in the mobile application stores. It is equally important to search for availability on the web and social media. Yes, your app is the main deal but an active web and social media presence would be crucial. This is why it is also important to check if the domain name and social media handlers/usernames are available. Catchy business names can make or break your venture and that is why you should put your focus on originality. You can do that on the Namobot search tool as it covers all aspects of an app's online presence not just helping you find you mobile app names.
Get Feedback
As long as you are not giving away your brilliant app idea, it can be helpful to get feedback. You can ask your friends and family about how the name sounds. In fact, tell them the name first and ask what they think it is about. If you have boiled down to a few cool app names, the feedback will help you make the best decision and choose the most suitable one.
At the end of the day, it is your call purely because the app is your brain child. However, it is other people who will be using the app. So you must also regard their perception when making the final decision. Nevertheless, it is not a great idea to go with a name that you yourself do not connect with.
Bottom Line Of Naming An App
This guide should help you in finding the right name for your app idea among the pool of catchy app names. The researching and brainstorming phase will take the most of your time but once you have come up with a few untaken names, it will not take longer to figure out which one's the coolest.
Ever since the rise of smartphones, apps have changed the way we communicate, entertain and work. According to comScore, 2.3 hours are spent daily on average by Americans on digital media and much of it is on mobile applications. With a bright idea and a right name, your app could be the next big thing.