Names.co.uk is a domain provider in the UK that is part of the Dada Group. Collectively, the group has over 600,000 customers and has nearly 2 million domains registered. Names.co.uk is very popular among small as well as enterprise level businesses in Europe.
Names.co.uk started out as a domain registration platform but today offers a variety of digital services for businesses. In addition to buying your domain, you can also host your website at Names.co.uk or buy website security and email hosting. All their products are designed to advance their client's business and help them achieve more in the digital world.
Names.co.uk provides its customers advanced tools to quickly search the domain they want. With dozens of extension choices, the possibilities are limitless. Plus, the prices are very low thanks to Names.co.uk vouchers.
If you register a domain at Names.co.uk you can benefit from some free offers that come with your domain. You get free website builder, email, and stock images for your website. Using their advanced tools you can search for multiple domain names in one go.
Names.co.uk makes it hassle-free for its customers to renew their domains. Not renewing your domain can be detrimental to your business and may even result in loss of domain. They provide an auto-renew option for free that ensures that your domain is renewed promptly.
They also allow long renewals for some extensions such as .com and .co.uk. You can renew the domain for up to 10 years and relax. Registering for a long term can also save you more money as your discount will be applicable to the entire term.
There are many reasons why you would want to transfer your domain to Names.co.uk. They provide an easy to use control panel for managing your domain. You get advanced DNS management tools, domain forwarding, and auto-renewals. On some extensions, you can get a free 1-year extension. You can choose between Linux or Windows OS.
Names.co.uk also provides hosting solutions for growing businesses. There are two types hosting plans at Names.co.uk:
The shared web hosting plans at Names.co.uk are packed with features that deliver high performance. They have an average uptime of 99.9%. With every plan, you get a free domain, free email, unlimited bandwidth, and reliable customer support.
Here are the three plans you can choose from:
Starter
The starter plan is the most basic plan at £4.99 per month. Here are its main features at a glance:
Web Space: 50 GB
Database: 2 X 500 MB
Hosted Accounts: 1
Professional
The Professional plan is suited for fast-growing businesses. It costs £4.99 per month after discount.
Web Space: Unlimited
Database: Unlimited X 1 GB
Hosted Accounts: 5
Premium
Premium is a scaled up version of the Professional plan and is suited for businesses with bigger data needs.
Web Space: Unlimited
Database: Unlimited x 2 GB
Hosted Accounts: Unlimited
Reseller Web Hosting
Names.co.uk provides a simple but profitable reseller web hosting plan at just £29.16 per month. It provides an easy to manage interface for you and your clients. You can customize packages and prices at your discretion. You get dual platform with Linux and Windows operating systems. The plan has intelligent SSD storage that provides high speed and adaptability.
Here are its features:
Bandwidth: Unlimited
Web Space: Unlimited
Databases: Unlimited x 100 MB
Hosted Accounts: Unlimited
Email Accounts: Unlimited
Managed Servers
In addition to basic web hosting, Names.co.uk also provides solution for managed dedicated servers. If you are looking for high-scale managed hosting solution, Names.co.uk's plans might just be the right fit for you. There are two managed server options for businesses:
Managed Dedicated Servers
These plans give you the peace of mind that your server is in capable hands and that your website is monitored and improved every day. This type of hosting only uses state of the art technology. Here are some of the tools your website will benefit from: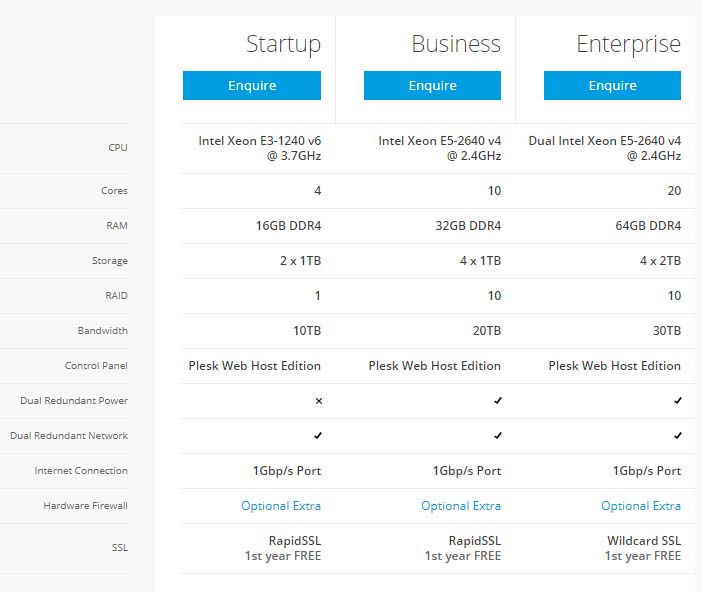 Nginx
OPcache
Apache
Redis
VCTR ProPlesk Control Panel
There are three plans under Managed Dedicated Servers: Startup, Business, and Enterprise. Prices are available on inquiring.
| | | | |
| --- | --- | --- | --- |
| | Startup | Business | Enterprise |
| Cores | 4 | 10 | 20 |
| Storage | 2 x 1 TB | 4 x 1 TB | 4 x 2TB |
| RAM | 16 GB DDR4 | 32 GB DDR4 | 64 GB DDR4 |
| Bandwidth | 10 TB | 20 TB | 30 TB |
| RAID | 1 | 10 | 10 |
Managed SSD VPS
These plans offer 100% SSD storage and lightning fast speeds. It is ideal for businesses with heavy traffic. They use Intel Xeon Processors and latest DDR4 RAMs. The control panel for this managed hosting is Plesk.
There are three plans and prices are quoted on inquiry:
VS:25M
VS:50M
VS:100M
| | | | |
| --- | --- | --- | --- |
| | VS:25M | VS:50M | VS:100M |
| Cores | 2 vCores | 4 vCores | 8 vCores |
| SSD Storage | 25 GB | 50 GB | 100 GB |
| RAM | 1 GB | 2 GB | 4 GB |
| Bandwidth | 50 GB | 100 GB | 200 GB |
| Domains | 10 | 30 | 30 |
Magneto & WordPress Dedicated Servers
If you are working with Magneto or WordPress you can opt for dedicated servers for these CMS. These plans offer advanced technology optimized for these platforms. As a result, your website gets lighting fast speeds and reliable performance. They use SSD storage providing faster data transfers.
There are two plans for each and prices are available on inquiry.
Magneto Lite
Magneto Lite II
WordPress Lite
WordPress Lite II
Names.co.uk Website Security
SSL Certificate
Names.co.uk provides reliable website security with its SSL certifications. They are compatible with all browsers and protect your data and visitors. Naturally, visitors trust your website and it also ranks well on Google.
Their SSL certificates are from GeoTrust and have up to 256-bit encryption.
Following are the SSL certification options at Names.co.uk:
QuickSSL: At £4.92 per month, the QuickSSL is great for a single website. It can be set up in just 24 hours.
True BusinessID: With a discounted rate of £7.42 per month, this SSL certificate is designed for organizations.
True BusinessID EV: At £16.58 per month, you can get an extended version of True BusinessID with lots of extra features like green address bar.
SiteLock
Another product that can protect your website and information is SiteLock. Names.co.uk offers affordable SiteLock plans for all types of websites. It can guard your website against hacker attacks which are becoming more and more common now. Stay protected from malware, identity theft, illegitimate content, etc.
Here are the three plans:
Starter: At just £2.29 per month you get the basic version of SiteLock. This includes Daily HTTP Malware Scan and Network Scan. It can cover 25 pages.
Premium: At £3.96, you get extra features to make your website extra secure. This package comes with FTP and SFTP Malware scanning. It includes up to 500 pages.
PremiumHTTPS: At £8.96, this package has all the Premium features and then some more. It offers daily Malware Scan via HTTPS.
Email Hosting
Names.co.uk also has your email needs covered with its fantastic and affordable email hosting plans. You get unlimited addresses, calendar, and tasks lists. It secures your professional email and allows access on the go.
Starter: The Starter plan starts at £2.99 per month. This includes 5 GB mailbox and unlimited email addresses.
Professional: The Professional plan at £4.49 per month is one step ahead and features 15 GB Mailbox size.
Exchange: This plan is just £5.59 per month and brings you 50 GB archive storage in addition to 50 GB mailbox storage. It also features Calendar and Contact Sync.
All plans can be signed up for 1 year or 2 years term.