Just Host is a hosting provider based in the US that offers an average uptime of 99.98%. They offer cheap plans with no hidden charges and plans have all the necessary features covered. They also provide instant server provisioning which allows your website to be up on the internet quickly. Just Host integrates with hundreds of applications so the possibilities are endless.
Web Hosting
Just Host offers a singular web hosting plan for businesses that are looking for an all-inclusive plan at an affordable price. The plan starts at $3.95 per month for the first term at discount. With robust technology, customized support, and great uptime, your website is sure to be a success. You can be at ease knowing that your website is being hosted on a reliable server.
Here is the plan at a glance:
Unlimited Hosting Space
Unlimited bandwidth
Unlimited Domain Hosting
Unlimited Emails
Free Domain
Free Website Builder
Instant Setup
Free Website Scripts
VPS Hosting
If you choose to host your website on a VPS, you get instant provisioning at Just Host. With resources assured for your website, there is never a moment your website is not functioning at its best. There are four plans that differ by several parameters. Businesses can choose according to their data and storage usage. The best part is you get discount on these plans too.
Standard at $19.99 per month
Core: Dual Core
Storage: 30 GB
RAM: 2 GB
Bandwidth: 1 TB
Dedicated IP: 1
Enhanced at $29.99 per month
Core: Dual Core
Storage: 60 GB
RAM: 4 GB
Bandwidth: 2 TB
Dedicated IP: 1
Premium at $44.99 per month
Core: Triple Core
Storage: 90 GB
RAM: 6 GB
Bandwidth: 2 TB
Dedicated IP: 2
Ultimate at $59.99 per month
Core: Quad Core
Storage: 120 GB
RAM: 8 GB
Bandwidth: 3 TB
Dedicated IP: 2
Dedicated Hosting
The dedicated hosting at Just Host is based on cloud infrastructure and managed. You get the best servers with instant provisioning. With RAID 1 mirrored storage, root access, and storage scalability; their dedicated servers are dedicated to providing the best services.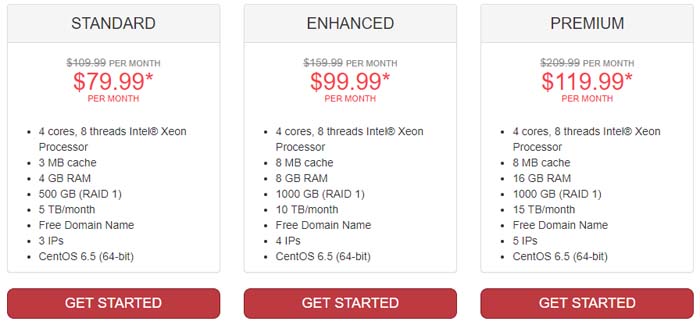 Following are the plans for dedicated hosting with great discounts:
Standard at $79.99 per month
RAM: 4 GB
Cache: 3 MB
Storage: 500 GB
Bandwidth: 5 TB
IPs: 3
Enhanced at $99.99 per month
RAM: 8 GB
Cache: 8 MB
Storage: 1000 GB
Bandwidth: 10 TB
IPs: 4
Premium at $119.99 per month
RAM: 16 GB
Cache: 8 MB
Storage: 1000 GB
Bandwidth: 15 TB
IPs: 5