InMotion Hosting is a hosting provider based out of California. InMotion offers affordable, scalable, and flexible solutions for hosting for all types of businesses. From small startups to enterprises, there is something everyone at rates and discounts that are mind-blowing.
InMotion Hosting is the only provider that offers a 90-day money back guarantee on its shared, VPS, and reseller hosting plans. You can use them for three months and if you are unsatisfied get your money back. They are also a top choice for customers because of their round the clock multi-channel support.
Shared Business Hosting

InMotion Hosting offers some of the best shared hosting plans with features that are otherwise not included with shared hosting plans. These plans are best for a static website and those that are based on databases. These plans work great with all the major CMSs and offer free drag and drop website builder tool. The features common for this type of hosting plans are: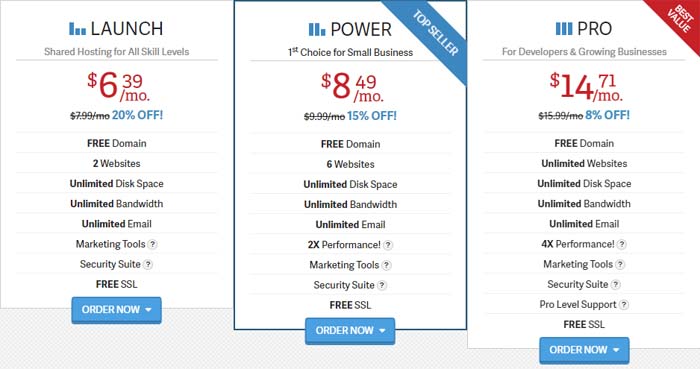 Free Domain
Free SSD
Free SSL
Unlimited Disk Space
Unlimited Bandwidth
Unlimited Email
Security Suite
There are three plans you can choose from with highly discounted rates:
Launch at $6.39 per month
Power at $8.49 per month
Pro at $14.71 per month
VPS Hosting
If you want a Virtual Private Server, InMotion offers you two choices: Managed VPS Hosting and Self-Managed VPS Hosting. The managed option gives you the convenience and peace of mind about the management of your website and its content. If you want control, that too is at your disposal with the Self-Managed option. You can access the root server and have things your way.
Here are the plans for Managed VPS Hosting at discounted rates:
VPS 1000HA-S ($29.19 per month)
VPS 2000HA-S ($47.39 per month)
VPS 3000HA-S ($69.34 per month)
| | | | |
| --- | --- | --- | --- |
| | VPS 1000HA-S | VPS 2000HA-S | VPS 3000HA-S |
| RAM | 4 GB | 6 GB | 8 GB |
| Storage | 75 GB | 150 GB | 260 GB |
| Bandwidth | 4 TB | 5 TB | 6 TB |
Here are the plans for Self-Managed VPS Hosting at discounted rates:
Self-Managed VPS1000 ($21.04 per month)
Self-Managed VPS2000 ($42.24 per month)
Self-Managed VPS3000 ($69.34 per month)
You get basically the same resources as with the managed plans. The first plan offers 3 IP Addresses, the second offers 4 IP Addresses, and the third offer 5 IP Addresses. You also get to choose the OS.
Dedicated Hosting
Dedicated Hosting at InMotion is 20 times faster than shared servers. You get robust security, high performance, guaranteed resources, and reliable support. Plans start at $105 and there are plenty of options to suit your need. You get DDR3 RAM and SSD Storage with RAID option too. Fully Customized Dedicated Servers are also available in case their plans do not suit you or cover your needs.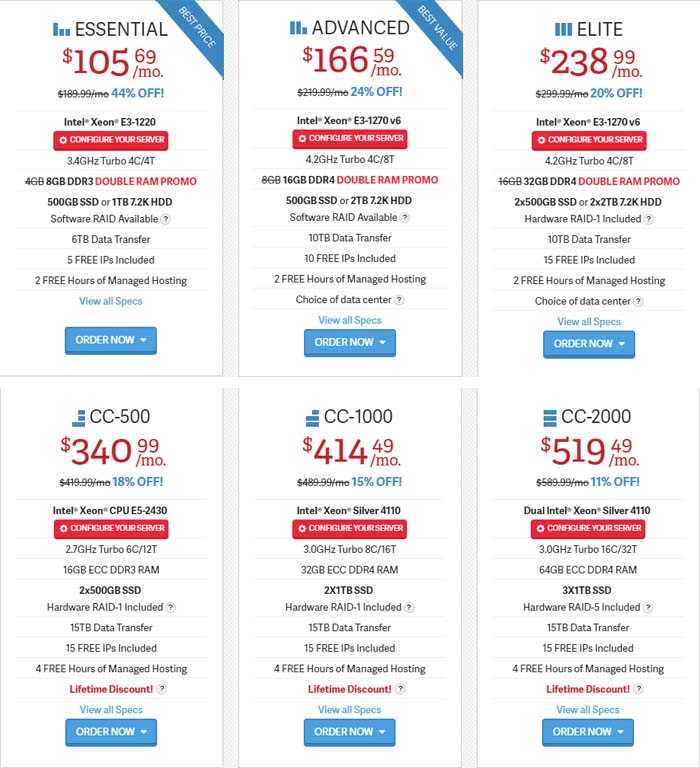 Resellers Hosting
Resellers can find plenty of options to choose from. Whether you just want to start off small or have big goals and need a big plan for that, everything is there. Those who are already using reseller plans from someplace else can get free transfer support. There are 6 plans starting from as low as $15.39 per month. Three of these plans are Reseller VPS that bring you even more power and speed.
WordPress Hosting
InMotion has six different plans for WordPress Hosting that are capable of hosting all kinds of WordPress websites. Whether you are just starting a blog or have one with hundreds of thousands of visitors every month, you will find a plan to host your website. You can even get Premium Themes and Plugins subscription. You can get the basic plan for WordPress at just $7.26 per month after discount.