HostGator is a Texas-based company that is widely known for web hosting across the world. What started in a dorm room in Florida in the early web era quickly became a powerhouse of web hosting. It is headquartered in Houston, TX and has won numerous prestigious awards in the digital world.
The founder Brent Oxley, a student at the Florida Atlantic University, started HostGator in 2002 and within a year he had over 100 clients. By 2009, they crossed 200,000 users and had two international offices in Canada and Brazil. Today, they host over 8,000,000 domains and are quickly adding more every day.
HostGator offers several web hosting plans for businesses of all sizes. In addition to hosting, they have your domain needs covered as well. Reasonable plans paired with great customer support make HostGator one of the most trusted hosting platforms in the world.
You can create your website from scratch or transfer an existing one seamlessly. Their talented team is standing by to help you round the clock. Additionally, HostingGator issues discount codes that can make your selected plan so much cheaper.
HostGator Hosting Plans
Shared Web Hosting
Shared web hosting has become very popular for small start-ups and HostGator offers incredibly low prices. The cheapest of the plans under shared hosting starts at $2.75 per month with discount. You share the server with other websites but you get the same reliable and high-quality support from Host Gator.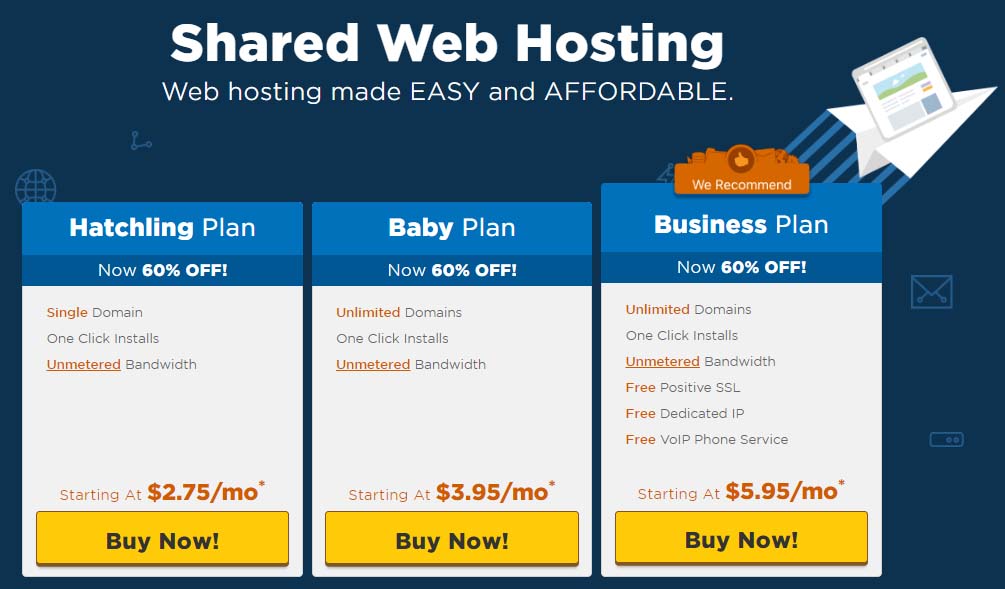 There are three plan types for shared hosting:
Hatchling Plan: (starts at $2.75/month)
Baby Plan: (starts at $3.95/month)
Business Plan: (starts at $5.95/month)
The Hatchling and Baby plans are quite basic but come with standard HostGator features that come with all HostGator plans. This includes domain(s), One Click Installs, and Unmetered Bandwidth.
The Business Plan is more appropriate for a new business. It also includes SSL, Dedicated IP, and VoIP Service. Instead of paying for an SSL, you get it for free with the hosting plan.
Cloud Hosting
Like all leading hosting companies, HostGator has also jumped on the cloud hosting bandwagon and offers plans that are affordable, reliable, and fast.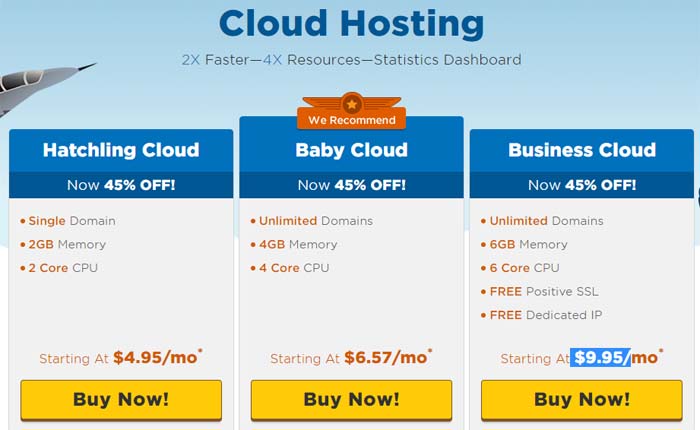 Hatchling Cloud starting at $4.95/month after discount
Baby Cloud starting at $6.57/month after discount
Business Cloud starting at $9.95/month after discount
The basic plan (Hatchling) offers a single domain, 2 GB Memory, and 2 Core CPU. The Baby Cloud and Business Cloud both offer unlimited domains. The memory on Baby Cloud is 4 GB and on Business Cloud it is 6 GB. You get 4 Core CPU on the former and 6 Core CPU on the latter. The Business Cloud also gives you free Positive SSL and Dedicated IP.
Why go for Cloud Hosting at HostGator? Here is why:
Twice the loading speed making your website and its content more dynamic
Easy to scale as your business and data needs grow
The Intuitive dashboard shows all relevant statistics
Three mirrored copies of your data
WordPress Cloud Hosting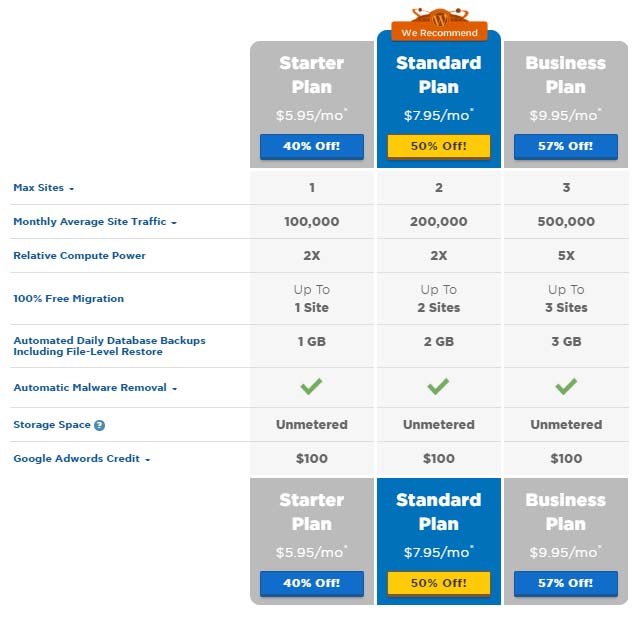 The WordPress hosting plans from HostGator truly give the bang for your buck. That is why it is one of the recommended hosting websites for WordPress. You can choose the plan that suits your needs and the size of your data.
Here are the WP Hosting plans with discounted rates:
Starter Plan: (at $5.95/month)
Standard Plan: (at $7.95/month)
Business Plan: (at $9.95/month)
The main differences between the three plans are the number of sites, number of visits per month, and backup size.
| | | | |
| --- | --- | --- | --- |
| Plans | Sites | Visits/Month | Backups |
| Starter | 1 | 100k | 1 GB |
| Standard | 2 | 200k | 2 GB |
| Business | 3 | 500k | 3 GB |
The WP plans offer 2.5 times faster load times. This is because of their cloud hosting architecture, CDN, low-density servers, multiple caching layers. With one click you can install WordPress and build your fresh and clean website with the help of tools and vibrant themes. If you are migrating to HostGator, they will give you free migration support. What else could one want?
Reseller Hosting
The reseller hosting plan at HostGator is one of their best plans that can help you make money. Their plan gives you the freedom and flexibility to run your business your way. WHM gives you the ability to create the HostGator cPanel for your clients and lets you manage how the payment structure works for you and your clients.

The three plan options for resellers are:
Aluminum : (starting at $19.95/month after discount)
Copper : (starting at $24.95/month after discount)
Silver : (starting at $24.95/month after discount)
You get unlimited domains on all three plans. The bandwidth and disk space for each plan are as follows:
Aluminum : (60 GB Disk and 600 GB Bandwidth)
Copper : (90 GB Disk and 900 GB Bandwidth)
Silver : (140 GB Disk and 1400 GB Bandwidth)
With every plan you get free client management and billing software. You also receive hundreds of tutorials for your potential clients.
Other features of this plan:
Domains, subdomains, MySQL databases, email accounts, and FTP accounts are unmetered
Multi-lingual Control Panel
Complete access control
Scads of Programming Languages supported
Website Statistics
VPS Hosting
Those looking for VPS Hosting for their website can choose from three plans carefully designed to different needs of these high-traffic websites. Here are some VPS features at a glance: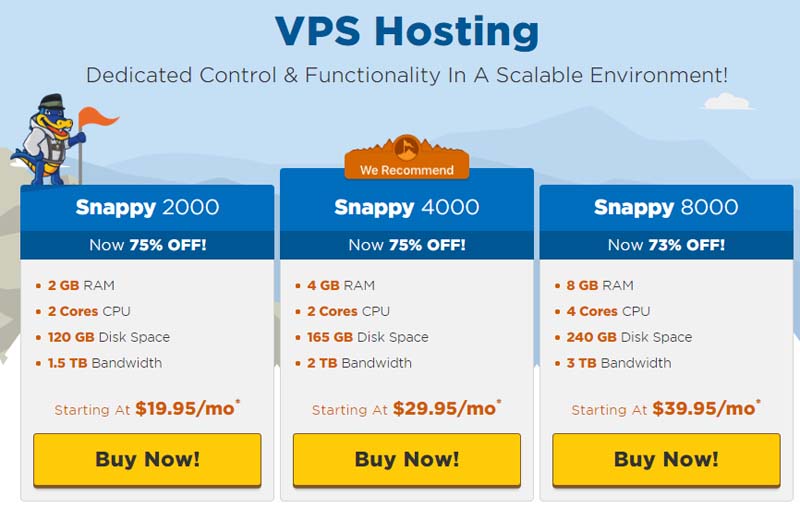 Advanced Functions
Robust Hardware
Weekly Off-site backups
Plethora of tools
Full control
Here are the three VPS Hosting Plans prices after discounts at a glance:
Snappy 2000: (at $19.95/month)
Snappy 4000: (at $29.95/month)
Snappy 8000: (at $39.95/month)
Here are the different parameters of the above three plans for VPS Hosting:
| | | | |
| --- | --- | --- | --- |
| Plans | Snappy 2000 | Snappy 4000 | Snappy 8000 |
| RAM | 2 | 4 | 8 |
| Cores | 2 | 2 | 4 |
| Disk | 120 GB | 165 GB | 240 GB |
| Bandwidth | 1.5 TB | 2 TB | 3 TB |
Their VPS hosting plans ensure high security with RAID 10 disk configuration. You have full autonomy of the server. You can add resources as and when needed by your website as HostGator is compatible with so many applications.
Dedicated Hosting
For those enterprise level websites and CMS, you need a hosting plan that can cater to often huge amounts of data. Your business needs unwavering support, cutting-edge technology, and lightning fast speeds. HostGator offers all that at rates that are surprisingly low.
Choose from the three plans at heavily discounted rates:
Value Server
Power Server
Enterprise Server
| | | | |
| --- | --- | --- | --- |
| Plans | Value | Power | Enterprise |
| Cores and Threads | 4 Core/ 8 Thread | 8 Core/ 16 Thread | 8 Core/ 16 Thread |
| RAM | 8 GB | 16 GB | 30 GB |
| Disk Space | 1 TB HDD | 2 TB HDD/ 512 GB SSD | 1 TB SSD |
Dedicated Hosting ensures the whole server is dedicated to your website and that all resources are at your disposal at all times. They also offer Semi-Managed and Managed solutions to cater to your specific needs. With full control and endless flexibility, this is best suited for those businesses that get huge amounts of traffic.
Windows Hosting
HostGator also has two Windows hosting plans with Plesk Control Panel. With robust ASP.Net programming features and scads of admin tools, their Windows Hosting is perhaps the best on the market.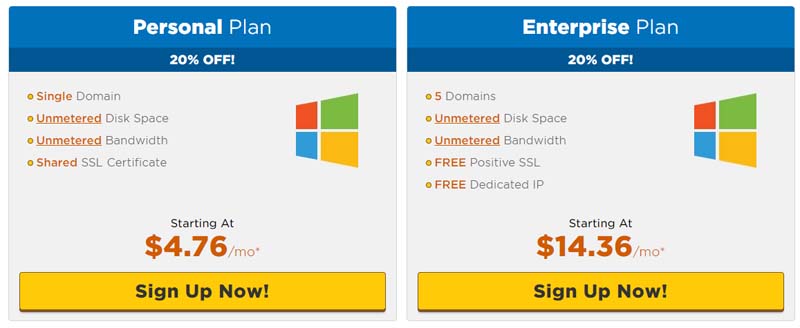 Here are the discounted rates of these plans:
Windows Personal: (at $4.76/month)
Windows Enterprise: (at $14.36/month)
With the personal option you get 1 domain and with Enterprise you get 5 domains. The latter also includes free SSL and Dedicated IP. You get all the basic as well as some advanced hosting features with these plans that can make controlling the server and your website a breeze.
---
Using Coupon Codes at HostGator
HostGator is one of those hosting stores that regularly release coupon codes for many of their plans. The codes may be valid for one-time use or there may be multiple of them. We regularly update coupons for HostGator.
Here is how you can apply a discount code to your plan:
When you are on the coupon page, click on the code you want to redeem (you can only use one for a single purchase).
Some codes may not need to be entered and will activate once you click on them. All you have to do is go ahead with the payment.
If the code needs to be entered manually, keep the code safe with you. Go to HostGator.com and choose the plan you want or the one the coupon is for.
You will be directed to the form for signing up for the particular plan you selected. Now, the first step is to get a new domain or use an existing one.
Steps:
1. Step one is select the plan of your choice and the billing cycle.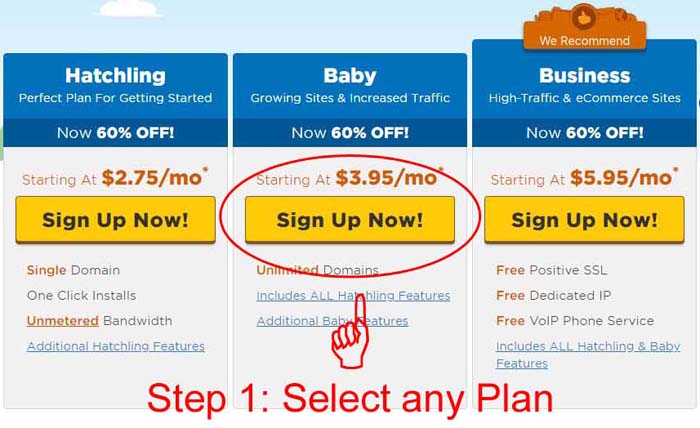 2. After this, enter your coupon code and the validate button.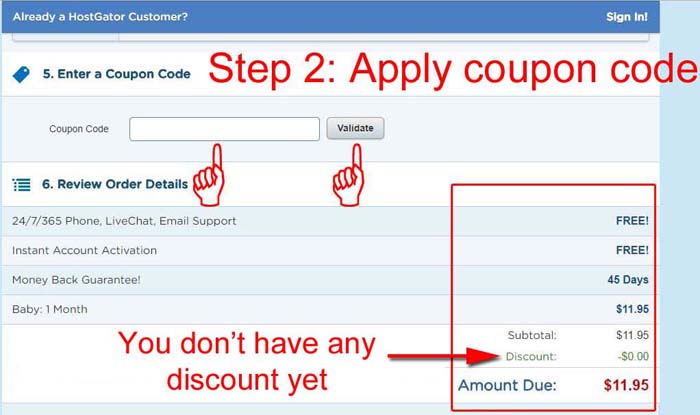 3. Congratulations! You got a great discount with a coupon code!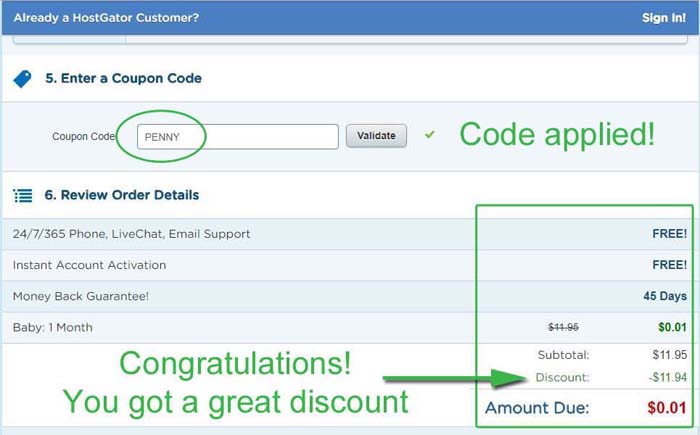 Your discount will be reflected in the amount due at the end of this form. You can go ahead and confirm the order. You are ready to host your website on HostGator!