FatCow is hosting solution provider for individuals, small businesses, and medium-sized enterprises. It was founded in 1998 with the idea of making hosting as simple as possible for end users. Their plans have everything you can find with high-end hosting companies except for the confusing jargon, information overload, and hidden prices.
FatCow provides domain registration and hosting for businesses that are just starting out and want to get their online identity ready. If you are looking for an easy to use and easy to control web hosting service, FatCow might just be the perfect fit for you guys.
Since their focus is on budding businesses, they provide excellent website builder tools. From basic branding websites to e-stores, you can get your website up in a matter of days. The rates are also kept very reasonable and with coupon codes in your hand, you will get your penny's worth.
FatCow Domain
At FatCow, you can find your perfect domain especially if you are going for one of those upcoming New TLDs. The domains are very cheap and you can use promo codes to get it at a discount. There are hundreds of possibilities and you can be at ease when you register your new business domain with them.
FatCow.com Hosting
Web Hosting
FatCow makes it simple and fast for new businesses to create their website. While other hosting websites have different versions of shared hosting plans, FatCow just offers one plan with everything a new business could ask for. It comes with all the tools, features, and services required by your business and you have them all under one plan for one price.
The Original Fat Cow Plan is only $4.08 per month after discount. Here are the features you get:
Free Domain
Free Website Builder
Unlimited Disk Space
Unlimited Bandwidth
Unlimited Email
Unlimited FTP Users and Subusers
Shopping carts
SSL Secure Server
24/7 Customer Support
WordPress Hosting
Those customers who want to start a blog should go for the WordPress Hosting. Again, with these plans, there are no hidden charges or unnecessary information. The plans are designed specifically for WordPress websites and allow even better control and management of content. You get curated themes, pre-installed plugins, and a customized control panel.
You get all the core features of web hosting as well as additional website security and enhanced performance. They have an SSD-based infrastructure that allows fast speeds. Also, you get expert support regarding WordPress.
There are two plans:
WP Starter at $3.75 per month
WP Essential at $6.95 per month
Both the plans offer the same quality services from FatCow, however, the WP Essential plan has more rigorous security and SSD-based super speed infrastructure.
VPS Hosting
For businesses that outgrow their expectations fairly sooner than expected, FatCow offers Virtual Private Servers. You get more resources, higher speeds, bigger storage etc. at reasonable rates. The VPS hosting plans are deployed instantly and there are no extra usage charges. Your websites needs are covered pretty well and your business gets the right kind of opportunity to grow.
There are three plans, all with discounts:
Basic at $19.99 per month
Cores: 1
RAM: 1 GB
Storage: 40 GB
Bandwidth: 1 TB
IP Addresses: 1
Business at $47.99 per month
Cores: 2
RAM: 4 GB
Storage: 90 GB
Bandwidth: 3 TB
IP Addresses: 2
Optimum at $79.99 per month
Cores: 4
RAM:8 GB
Storage: 120 GB
Bandwidth: 4 TB
IP Addresses: 2
Dedicated Hosting
The ultimate plan for hosting gets you your own dedicated server. This is best for medium-sized businesses that have outgrown even the resources generally provided within VPS plans. You get the same pre-installed scripts, cPanel features, high-standard security, lighting fast speeds, and free domain.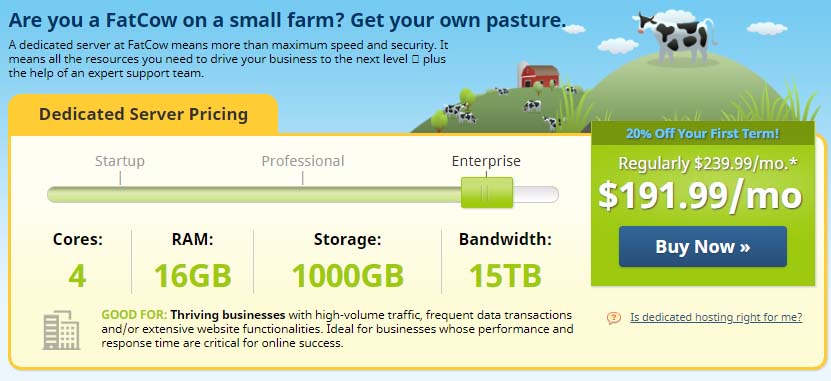 There are three plans at discounted rates:
Startup at $119 per month
Cores: 2
RAM: 4 GB
Storage: 500 GB
Bandwidth: 5 TB
IP Addresses: 3
Professional at $151.99 per month
Cores: 4
RAM: 8 GB
Storage: 1000 GB
Bandwidth: 10 TB
IP Addresses: 4
Enterprise at $191.99 per month
Cores: 4
RAM: 16 GB
Storage: 1000 GB
Bandwidth: 15 TB
IP Addresses: 5
FatCow Money Back Guarantee
FatCow offers no questions asked money-back guarantee that is valid for the first 30 days. You can choose to cancel the plan and get your money refunded. This is only possible if you paid with a credit/debit card. If you availed the free domain with your hosting plan, you will be charged $15.00 for it.