Bluehost is one of the leading hosting companies in the world that hosts more than 2 million websites. It services cater to a wide range of websites and online business from enterprise level e-commerce websites to simple branding websites for SMEs. With unwavering commitment, high-quality customer support, and latest technologies in hosting, Bluehost has satisfied millions of customers across the globe.
Bluehost is one hosting company that has prices figured out pretty well. The prime reason many small businesses opt for hosting their website here is that of Bluehost pricing which is quite reasonable. The savings opportunity does not end there; Bluehost also offers coupons for many of its hosting plans.
This web hosting company is based in Provo, Utah and was started by Matt Heaton in 2003. Since its inception, it has introduced many new features in its hosting plans and seen massive improvements in their speed and uptime. The 50,000 square feet facility in Utah houses their servers.
Bluehost Hosting Plans
Bluehost offers an array of hosting plans that are targeted for different types of business models and designed to achieve their specific goals. Each hosting type has further plan types that differ by offered features and pricing. All hosting plans come with a free domain in case you already do not have your own.
Here are Bluehost hosting and domain products:
Shared Hosting
Cloud Hosting
WordPress Hosting
VPS Hosting
Dedicated Hosting
Domains
Shared Hosting
The cheapest of the hosting plan at Bluehost is their shared hosting plan where you basically share a server with other websites. It is economical, secure, and fast, giving you all the necessary features that make a good hosting plan.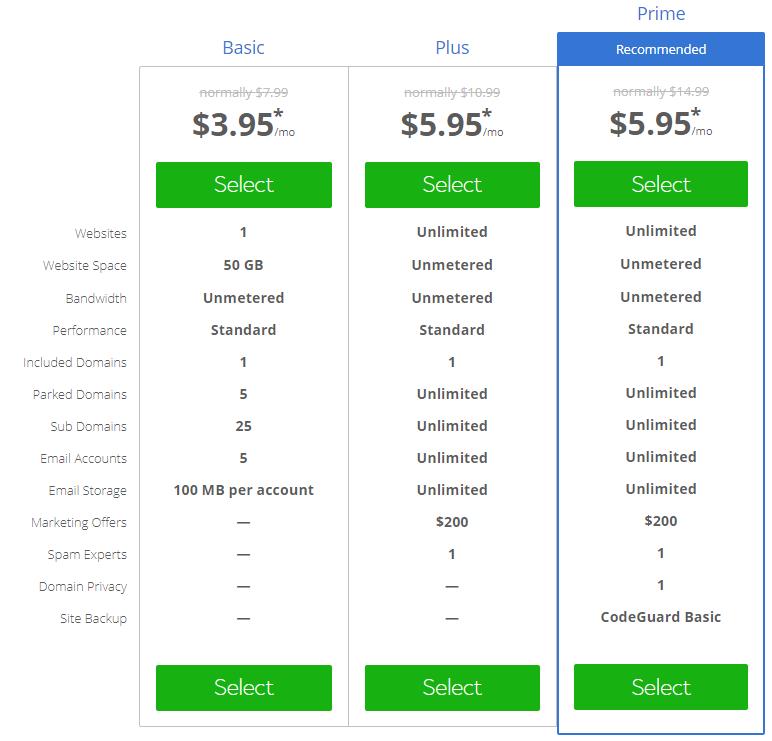 The Basic Sharing Plan offers almost all the features except for Marketing Offers, Spam Experts, Domain Privacy, and Site Backup. The Plus and Prime plans for shared hosting offer unlimited website space, subdomains, email account, and email storage. You get Standard Performance on all options.
There is another special plan called Go Pro that offers everything offered in the Prime Plan but also SSL Certification, high-performance server, and Dedicated IP.
Basic shared hosting with discount costs $3.95/month
Plus and Prime plans costs just $5.95/month
Go Pro starts at $13.95/month
Cloud Hosting
Everyone knows the cloud is the future and Bluehost is taking it seriously. Their new Cloud Hosting service is safe, affordable, and simple. Cloud hosting plan mirrors your website on three devices so there is virtually no downtime ever.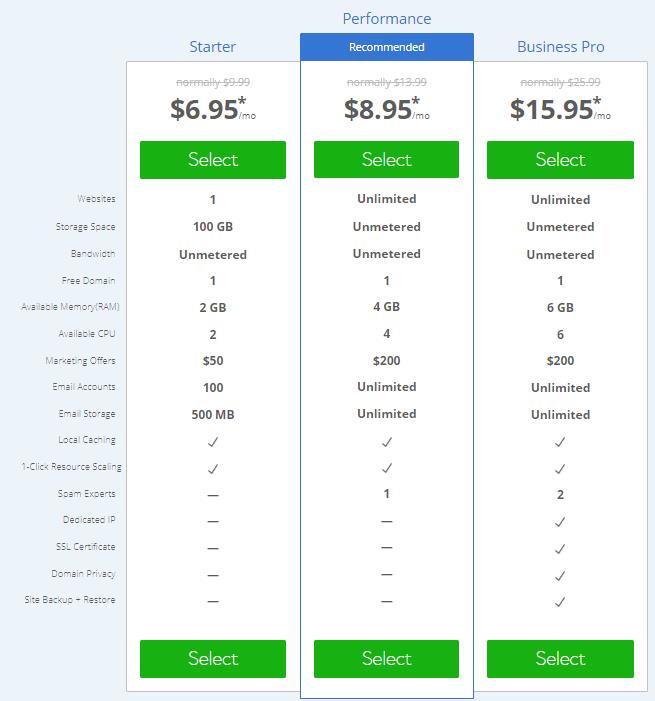 If you are looking for a relentlessly reliable hosting, the cloud is the answer. Here are some features of this hosting plan at a glance:
Integrated Caching: Ensures automatic acceleration of your website's content.
Resource Monitoring: You can find out when and which resources are needed by your website and add them dynamically.
Intuitive Dashboard: From a centralized location, you can monitor the performance of your website.
Instant Scaling: Scalability of cloud hosting is simple and quick.
Automated Failover: If hardware fails, the website is switched to the next device ensuring maximum uptime and no downtime.
There are three plans you can choose from: the Starter, the Performance, and the Business Pro. Each is curtailed to the needs of the businesses. The starter package features everything you will need to rely on without any worry. It features 100 GB of storage space.
The Business Pro has the most number of features including all Performance features as well as SSL Certificate, Dedicated IP, Domain Privacy, and Site Backup and Restore.
The Starter Plan is just $6.95/month after discount
The Performance Plan is $8.95/month instead of $13.95
The Business Pro Plan is $15.95/month after a discount of $10
WordPress Hosting
WordPress has become a widely common CMS around the world, not just for bloggers but for many other businesses as well. Bluehost takes WordPress hosting to the next level with its specially engineered plans for WP. Once you sign up for a plan, it automatically installs WP for you to create your flawless website.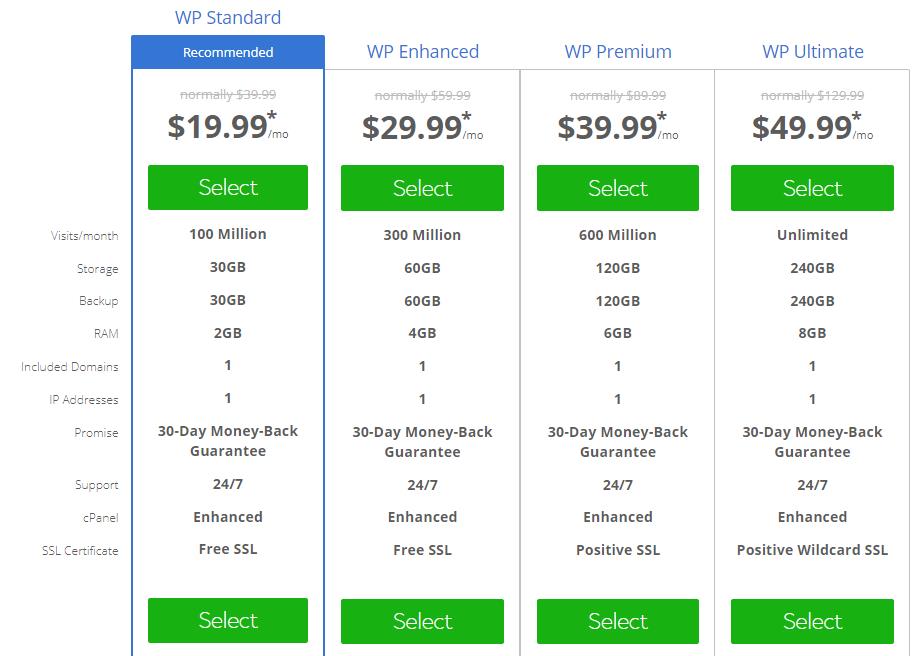 WordPress hosting plans differ by visits, storage, backup, and RAM. The higher the level of the plan the more you get out of it.
The WP Standard Plan starts at $19.99/month after discount and the most advanced plan the WP Ultimate is $49.99/month after a big discount.
VPS Hosting
Virtual Private Server Hosting offers full control and a lot of flexibility. It uses SSD storage and each plan, of course, comes with a free domain. You get unlimited band with all three plans: Standard, Enhanced, and Ultimate.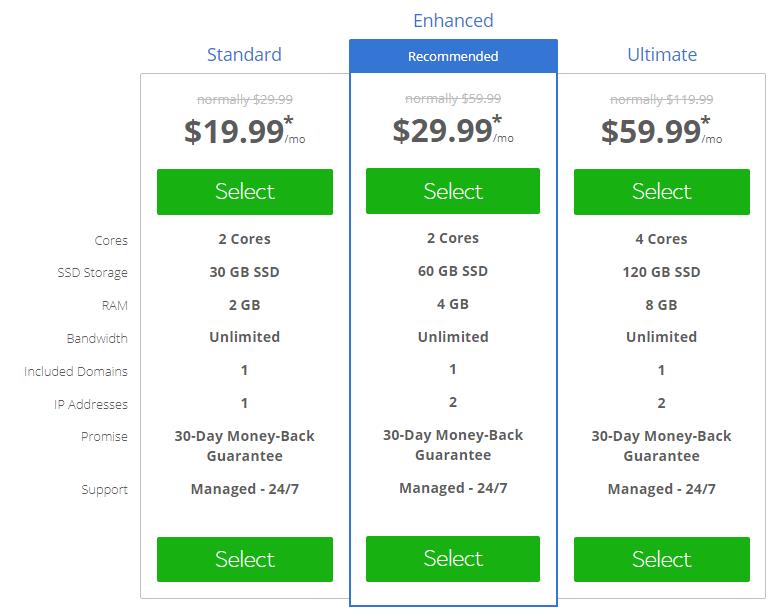 The difference in the plans is the number of cores, SSD storage, RAM, and IP Addresses. With VPS, you get guaranteed resources and, therefore, excellent performance. Some advanced features of VPS are:
Integrated Caching: Ensures automatic acceleration of your website's content.
Multi-Sever Management
FTP for File Management
Access Control
As for pricing, all plans have marked down prices even before discounts through coupon you may use. The Standard plan is just $19.99/month, whereas the Enhanced and Ultimate plans are $29.99/month and $59.99/month respectively.
All plans have a money-back guarantee and are managed round the clock 24/7!
Dedicated Hosting
For those not restrained by budget and looking for the ultimate performance, Bluehost created the dedicated hosting plan. For this hosting service, they provide RAID Level 1 support. The drives are mirrored to ensure protection. This is what makes this plan so unique from other dedicated hosting plans from different companies.
In addition to extreme speed (4 cores and 8 threads), you get an unmanaged server that basically allows an advanced user to take charge of their server. With improved cPanel, it is incredibly easy to do everything. Optionally, you can also get SSL certification or scale up your dedicated hosting.
Integrated Caching: Ensures automatic acceleration of your website's content.
Standard plan at $79.99/month
Enhanced plan at $99.99/month
Premium plan at $119.99/month
Domains
If you are looking just for a domain, Bluehost also provides domains starting at as low as $8.99/year. They can provide .com, .org, .net, .co, .co.uk, .blog, .site, .info and many more domains. Here are the salient features:
Easy domain management
Domain lock for easy transfer at any time
Auto-renewal for protecting domain
Bluehost Money Back Guarantee
Bluehost does not want you to be bound to use their service. In fact, it wants its clients to be absolutely satisfied with the plan and then continue. For this reason, they offer a 30-day money-back guarantee. This means that should you feel that the plan you chose is not living up to your expectation, you can back out within 30 days.
You will be entitled to a refund for the whole plan except for any add-on features you paid for. Also, if you received a free Bluehost domain with the plan, you will be charged a small deduction fee ($15.99) for this domain. However, this is in your interest only because they do not cancel your domain, it remains yours.
You can transfer the domain to another hosting service after 60 days of registration. After the 30 day period, you may not get a full refund but you can still cancel the plan anytime you like.
Bluehost Coupons
Bluehost is already so cheap using coupons with its plans can bring the total chargeable amount even further down. With discounts, you can get a plan as cheap as $3.95/month. Bluehost regularly issues discount codes for its customers.
You can find those current and valid codes here. The coupon codes are updated regularly and during special occasions like Black Friday or Cyber Monday, there may be limited time codes too. Hosting is an important expense for any online business or enterprise and if you can make a saving every year, why not?
Discount codes may not even be needed to enter at a payment page. Simply click on them to activate and head to Bluehost.com to purchase your plan at the discounted rate. You can get discounts on certain plans or for a certain period.